Elizabeth Poxon was a conundrum for me for quite a while!
As her child Louisa was named as being the neice of the Sutton family on the Census of 2011, and the name Poxon was the maiden name of Louisa's mother, I traced the family of Rebecca Sutton the wife of Henry Sutton and deduced that Elizabeth must be a sibling of Rebecca's and therefore have Job Poxon as her father. He is quite a well researched person on ancestry as he was successful in business and many of his children became prominent business people in the area. But I could not find an Elizabeth Poxon listed as one of Job's daughters... or as one of his brother's daughters!
I could therefore can only deduce that Elizabeth was her second name and that she dropped her original name from use once she grew up.
I found threee candidates for this theory and researched each in turn to cross them off the list of possibilities:
Elizabeth Charlotte Poxon - born 1874 - in West Bromwich - but she also died that year...
Drusilla Elizabeth Poxon - born Apr 1872 - in Wolverhampton - but she was still unmarried at the age of 34... and died a spinster at the age of 84.
Elizabeth Ann Poxon was born in 1864 - in West Bromwich. That would make all of the ages on the Census entries wrong by 8/10 years.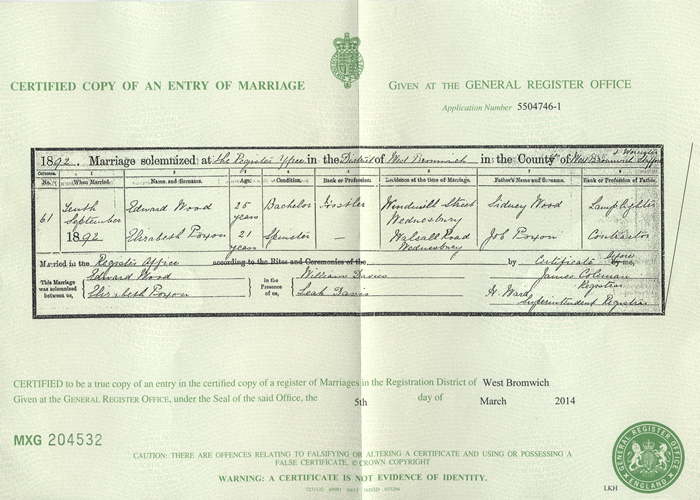 I therefore sent for Elizabeth's marriage certificate and discovered that her father was indeed Job Poxon - and her name was simply Elizabeth. According to the certificate she was 21 on 10th September 1892 meaning that she was born before 10th September 1871... or that she lied about her age to be 'over 21' when marrying. In accordance with the Marriage Act of 1836 they were not married in Church, but in a registry office. It was not until the Family Law Reform Act of 1987 made revisions to the Marriage Act of 1949, that the age of marriage without parental consent in the UK was reduced to 18 years of age.