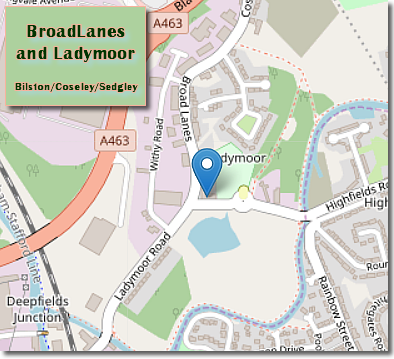 Thomas Howell spent his entire life in the outskirts of Bilston. He was born in Broad Lanes, as was his wife and all of his nine children.
The Gazetteer and Directory of Staffordshire, William White, Sheffield - published in 1851 described Broad Lanes and Lady Moor as adjoining hamlets, two miles NNE of Sedgley, and within half a mile SW of Bilston. Deepfield was a hamlet that had a number of scattered houses in the coal and iron district - it was one mile SW of Bilston. At Deepfield there was a tunnel of the Birmingham Canal, 1090 feet long, 25 feet broad, and 17 feet high from the surface of the water.
The hamlets had their own shops, public houses, Chapel and school.
There were two shops in Ladymoor itself. Both were general stores where you could buy tinned goods, milk, bread and eggs. The bread was delivered to the shops from a bakery. Early closing day was Thursday but it didn't matter because if you ran out you could always go round the back and knock on the door. They'd open up for you. The shops ran 'a slate' so that customers who were 'short' could have goods when they needed them and pay off their debt each weekend when the wages were collected. There were other shops in Broad Lanes that connected Ladymoor Road with Coseley Street in Bilston. There was greengrocer, a butcher and a pub or two. There was a small farm in Ladymoor village. The cows were kept in a field across the road from the Spreadeagle Pub. There was a big pond in that field and children were warned to keep well away from it. The famer sold fresh milk. You could either collect from the farm or have it delivered - a door-to-door service! On delivery it would be poured into your own jug - no milk bottles back then. It wasn't pasteurized and there were no refrigerators. There was also a fish van that called each week and a butcher's van that came regularly to the area.
Elizabeth recalled going to the 'tin school', writing on slates and sitting on bricks. They did not have much in the way of equipment, but she did learn to read, write and add up... to a higher standard than is often achieved in our well provisioned schools today. The building was constructed of corrugated tin sheets and when it rained it was really noisy, she said. It was also very cold in the winter and hot in the summer. School hours were nine o'clock to midday and two to four in the infants and four thirty in the senior school. There were no school-dinners, everyone went home for lunch. The classes were quite big and the teachers all used the cane to maintain discipline - some more than others. Many children had a long walk to school, some coming from Bilston, but most lived nearby. Some came from very poor homes. They had shoes on their feet but they were worn out or just plimsolls. Girls not only learnt the 'three Rs' but also learnt to cook and sew and to embroider clothing. The kitchen was at a centre some way off from the school. The children had to take their own ingredients to prepare a meal and walk there, afterward they had to clean the kitchen. The teacher used to say that the floor had to be "as red as a cherry, as dry as a bone - ready for daddy when he comes home."
Thomas and Ada successfully raised a large family in Broad Lanes, only one child died before growing to adulthood.
He worked as a 'puddler', a wheelwright labourer and an engine driver within the iron and steel industry that was prevelant in the area.
A description of the area is given by Cynthia Turner, who recalled living there in the 1920s as a child:
'Ladymoor was a pleasant place, in a patch of countryside, in the middle of factories, railway lines and the canals. It always seemed special. However childhood memories are often untouched by reality. The reality was the industrial mess of the Black Country and I suppose that the place I recall has long since disappeared. Like everything else, times change and the wonderful spectacle of the tipping the steel against the night sky is a long gone. It was a beautiful sight; one I vividly recall. The orange red reflection in the sky lives with me now, a cherished memory.'