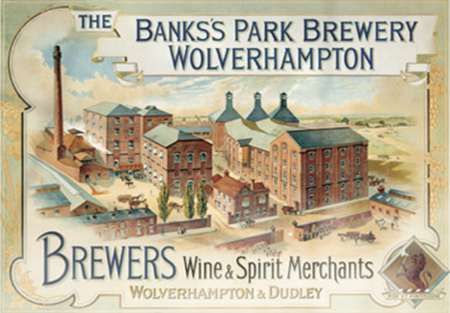 Mr. Thomas Banks first established Banks & Co. as a firm of maltsters in 1840.
A maltster selected cereals, mainly barley, from the growing fields, for malting.The maltster would then modify the barley, using nature as part of the process, to allow the brewmaster to be able to make beer from it. The barley was malted to the brewmasters specification, to ensure the brewmaster being able to produce the beer flavor and alcohol content he desired.
In 1874 Mr. Banks ventured into brewing itself with his son Henry and two other employees. In 1875 the company founded the now famous Park Brewery on the site of an artesian well in Wolverhampton. This site is still the home of Banks's today, with many of the buildings remaining intact, including the old chimney that can be seen on the city skyline. The proud history and heritage isn't confined to just the buildings, even the live strain of yeast in all Banks's cask ales has been in use for over 100 years.
in 1890 the Wolverhampton & Dudley Brewery was formed from an amalgamation of three local breweries, including Banks and Co., George Thompson & Sons' Dudley Breweries and Charles Colonel Smith's Fox Brewery.
Today Banks' is part of Marstons.