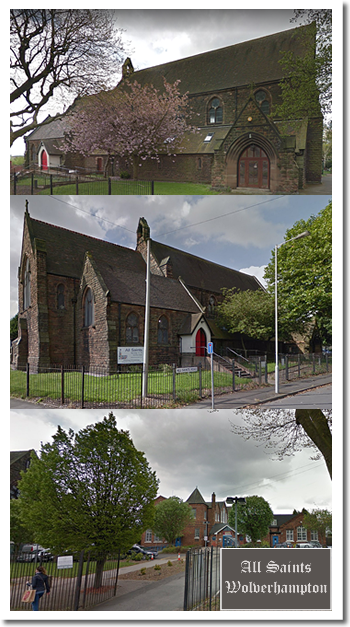 Margaret attended All Saints Primary Schools in All Saints Road, Wolverhampton WV2 1EL.
The Church of England church of All Saints was designed by London architects T. Taylor Smith & G. F. Roper in 1876, in the early gothic style, to replace the earlier Mission Church and School. The 88 feet long by 25 feet wide by 54 feet high nave of the present building was built in 1877-79 by Highams of Wolverhampton and was consecrated on All Saints' Day 1st November 1879 (and became a parish church in its own right in July 1881).
Margaret attended the Church of England School that was situated to the west of All Saints' Church. It was a typical Victorian-style CofE School, opened by Lord Barnard in 1894.
It closed in the 1990s with its remaining pupils being transferred to Grove Primary School. The school has been restored/modernised and extended by 'The All Saints Action Network' and re-opened in October 2008 as 'The Workspace', a state of the art community facility offering a wide range of facilities. This preserves the shell of the building that Margaret would have known, and serves today's local inhabitants very well.
Margaret recounted that on the first day of school she was sat next to a boy by the class teacher. This pretrified her! Her mother had warned her to 'keep away from boys - they are all nasty, rude and dirty'. Perhaps fearing that Margaret might develop a liking for lads and land up 'getting into trouble' (as getting pregnant was called in those days) if she befriended boys, Elizabeth had laid on the warnings too thickly for sensitive Margaret. The five year old burst into tears and ran out of the classroom - and all of the way home. Elizabeth had to take Margaret back and explain things to the teacher on the afternoon. Margaret always felt very sorry for the lad she had been sat next to - he was a lovely chap as she remembered and she recalled he turned bright red and avoided her after that..