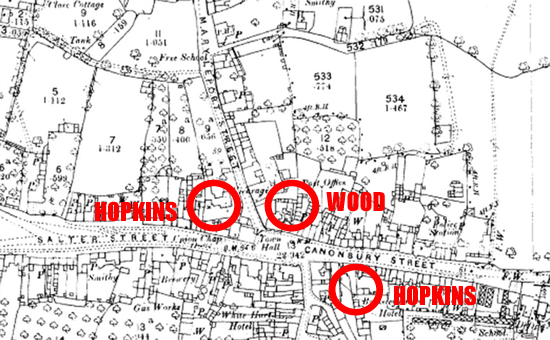 At the age of nine we find her staying with her four year old sister Naomi in her uncle's house in Berkeley.
Their father, Charles George Hopkins, is recorded on the Census as being at 17 Canonbury Street and their mother, Mary Ann, is staying at their 75 year old grandmother Naomi's house at 17 Canonbury Street.
Her grandmother was widowed some 15 years earlier and on the census 10 years earlier had been classified as a nurse.
Naomi on this census is classified as a pauper. Her son Charles (a farm labourer) was supposedly residing at the inn next door and her daughter-in-law is listed as a 'visitor' on the census. It may well be that the family were living with his mother, but not wanting to affect her 'pauper' status (making her lose the charitable income she was getting) they put two children with the uncle and he stayed 'at the inn'!
The two grandchildren staying at 17 Canonbury Street were Maria (Age 6) and Mary Ann (age 1).
The Uncle's address is 64 Salter Street. It is very near to the house where she will live when she becomes Mrs. Wood.
Her uncle's name is John (aged 51). He is an agricultural labourer and was born in Shirehampton, Gloucestershire, England. Her aunt is called Mary, she was born in Pucklechurch. They have a 14 year old daughter called Mary Ann, who was born in Berkeley, living with them. Their son John (born in 1832) had already left home at this time.