Health Qigong & Tai Chi Festival - London 2012
Date: Saturday, 21 April 2012, 10:30 - 16:00
Location : Bourne Hall EWELL SURREY KT17 1UF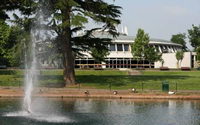 The Health Qigong & Tai Chi Festival was organised by the British Health Qigong Association. The event was a celebration of how elements of Chinese Culture have been embraced in the UK. During the event we had Health Qigong Masters from China and the UK conducting the taster sessions.
We set a UK & European record of mass display of Health Qigong in the Bourne Hall Park of 300 people mass display.
It was a no profit-making event, they only charged a small fee to cover the hiring of the venue, as they had received generous sponsorship from the Chinese Health Qigong Association & Tai Chi Link Martial Arts. Participants all receievd beautifully made silk Tai Chi & Qigong training suits. We students receieved white shuits and the instructors had duck egg blue ones. They really are beautiful and comfortable, and I think they made the display look very professional!
We were very lucky with the weather. During the display we only had a couple of raindrops - for most of the time the sun was shining. As we made our way home the heavens opened and there was a downpour.